If you're looking for a single destination where you can find all of the smoking accessories you want, from top industry brands, with employees who understand the significance of each unique item, make your way to Coughing Canary! As the largest smoke store in Scottsdale, Paradise Valley, Tempe, and Fountain Hills, AZ, we take pride in living up to our reputation as a hub for smoking enthusiasts and the counter-culture lifestyle.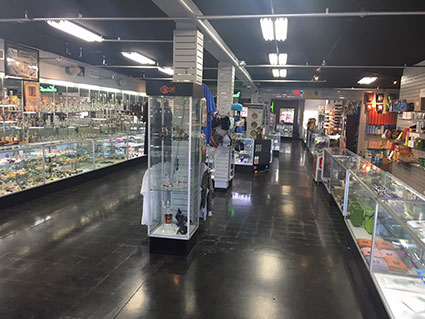 Your Local Smoke Store & More
Unlike other smoke stores in Scottsdale, AZ that may carry a few custom glass pieces or limit their selection to a few of the more mainstream brands of products, we take an encompassing approach to bringing our customers the quality and selection they're looking for. On our shelves you'll find thousands of unique products, spanning all segments of the smoking lifestyle. We carry:
Glass PiecesAll types and styles including glass pipes, waterpipes, oil rigs, bubblers and just about everything else you could want! Our selection is incredible, and we feature some of the most trusted glass brands around.
Smoking AccessoriesIncluding papers, blunts, tobacco, hookah tobacco and more. Our expert employees can help you find the accessories that are ideal for you, so you walk away with exactly what you need for the optimal smoking experience.
Vape and E-cig ProductsIncluding e-juice, batteries, vaporizers, and accessories. We're pleased to have an expanding selection of products that dwarfs all other stores in Scottsdale, AZ!
Tobacco and CigarsA core specialty at our shop, meaning we take pride in carrying more options than anyone else! Choose us for cigarettes, shish tobacco, cigars, loose tobacco and more, no matter your tobacco preference.
We invite you to explore our entire store and see for yourself why people continue to choose us over other smoke stores in Scottsdale, AZ when it comes to getting the products and service they need.
Our friendly, personable staff is here to help you find exactly what you're looking for, and we're always happy to lend our ear to your needs to provide advice and solutions that will help you achieve the ideal smoking experience.
For more information about our inventory or to inquire about a specific question you might have, we encourage you to stop by our shop today or contact us at (480) 361-6723! We're located at 1917 N Scottsdale Rd in Scottsdale, AZ 85251. Our store is open 7 days a week and we're available from 10am to 12am Sunday through Thursday, and 10am to 1am Friday and Saturday.